The boilerplate on Mali often includes the words poor, land-locked and dusty. Those words may be accurate for a superficial description of the country, but you shouldn't let them overshadow Mali's culture, social fabric, and history – not to mention the Sahelian landscapes that stretch to infinity and the Niger River, which snakes lazily through the country.
This guide will cover everything you need to know if you are planning a trip to Mali. Some parts of the guide, including the map at the bottom of the page, may link to separate articles that provide more detailed information on the topic at hand.
Security in Mali
Before we get into the details of traveling Mali, let's take a minute to talk about the security situation. Mali has been considered a red zone by many countries since the 2012 coup d'etat (and some countries had the north of the country off limits since 2009). Where does the security situation stand now?
As of this writing (late 2017), we advise against traveling to Mopti/Sevare and all regions north of it. This means that Dogon Country is also off limits for the time being. While we believe Dogon Country itself is perfectly safe, it's the coming-and-going that could pose a problem.
In other words, we advise against traveling to the regions of Mopti, Timbuktu, Gao and Kidal.
Mali is a big country, and there is still plenty to see in the other regions, from the capital of Bamako to the historic home of the Bambara empire in Segou to verdant Sikasso, the breadbasket of Mali.
Why travel to Mali?
Culture basics
Entry Visa and Arrival
Health and Safety
Travel insurance
How much does it cost?
Weather
What to pack
ATMS, credit cards and cash
Getting around
Where to go and what to do there
Recommended tour operators and resources
Why travel to Mali?
Check out our article "Why Mali is Worth Visiting Despite the Travel Warnings". If that doesn't persuade you, then you should probably stop reading and travel to, I don't know, Denmark instead.
Culture basics
Mali is a predominantly Muslim country, but it is not as socially conservative as you might think. There are a few things to keep in mind:
Greetings are important. Greetings are important everywhere, but in Mali and most of West Africa, they are a bit more than just a casual hello. It's customary to ask about the health of the other person as well as the health of their family.
Sitting down to eat? Invite those around you to join. Most people won't actually take you up on the offer, but it's another custom that proceeds without reflection. Sharing food is a foundational aspect of Mali's social fabric.
You may not be permitted to enter many mosques. Unless you are Muslim, there are a number of mosques that will not grant you entry. This includes the well known, historical mosques of Segou and Djenne.
Mali is quite tolerant when it comes to clothing choices, but it's better to dress conservatively in certain places/situations. In Mali, you will see women openly breastfeeding, and it's not uncommon to see half-naked women bathing on the banks of the Niger. However, it is not the best idea to walk around in a mini-skirt at mid-day. Also, both men and women should dress conservatively when visiting a mosque or going to meet a village chief (or council).
We would also add that learning a few words in Bambara goes a long way to having a rich cultural experience in Mali. This Wikitravel entry on Bambara is helpful for that. For more on the language, see Phil's blog post here.
Entry visa
It was once possible to get a visa on arrival for Mali – both at the airport and at any land border – but they have sadly taken that option away. There are different theories for why this has happened, some involving "security measures," others involving the government's attempt to increase direct revenue.
Unfortunately, you need to get your visa before you arrive in Mali. You can do this at a Malian embassy in a neighboring country (there is one in Senegal, Burkina Faso, Cote d'Ivoire, Niger and Mali), or you can possibly do it from your home country.
To see whether you can apply for a Malian visa in your home country, check this list on wikipedia.
Expect to provide the following with your visa application:
Passport
2 passport sized photos
Visa application form
Copy of yellow fever vaccination
Copy of flight itinerary
Copy of hotel/lodging information
the visa fee, which may be different depending on the embassy where you apply
In general, the Malian embassies in countries that border Mali will be less strict with these requirements. In my own experience, for example, I have never been asked to provide a copy of my yellow fever vaccination or my flight itinerary when applying for a visa in a neighboring country.
Arriving in the country via land border is straightforward. Even the busiest of crossings is relatively chilled out compared to some of the larger crossings between the coastal countries. If you have your visa and your yellow fever certificate, you will be fine.
If you are arriving via plane, it's important to keep these tips in mind. Bamako has a new airport, but it didn't come with new rules to keep out "fake" guides trying scam you.
Malaria
Malaria is endemic to Mali, and it is certainly something that you should prepare for when traveling to the country. But don't freak out about it. There are measures you can take to get awfully close to a 0% chance that you will run into the disease.
Some travelers question whether or not they should take malaria prophylactics or not. I would say that it would be foolish not to take them, even if you plan on traveling in the country for quite some time (some travelers fret over long-term prophylactic use, but the risk to your health is low compared to what can happen if you come down with malaria).
You will likely need to go to a travel health clinic to get a prescription for a malaria prophylactic. Be sure to talk to the doctor about which medication makes sense for you. In my personal experience, I have reacted poorly to doxycycline and mefloquine (Lariam), but malarone has always been fine.
If you find that the prophylactics are expensive in your home country, you can always travel with a small supply and buy more once you get to Mali, where they are quite cheap. For more on malaria, we suggest reading our comprehensive guide and this article called malaria myths and facts.
Vaccinations
As mentioned in the visa section, you need a Yellow Fever vaccination in order to enter the country. Once again, you will likely need to go to a travel health clinic for that. You should also have:
– Routine vaccinations, such as tetanus, hepatitis, meningitis
– Typhoid
You likely already have the routine vaccinations, so you may just need Typhoid and Yellow Fever. It's worth checking to see if your health insurance will cover any of these immunizations before you get them.
For more info, please read our article on immunizations for West Africa.
Other health issues
The number one health issue for all visitors to Mali is your run-of-the-mill traveler's diarrhea. In most cases, it's bacterial, and it will go away on its own. In severe cases, you can take a broad-spectrum antibiotic like ciprofloxacin, which is like a neutron bomb for your intestines. It will lay waste to all bacteria, good and bad.
If you have an intestinal issue that is not caused by bacteria, you could have an amoeba, giardia or some other parasite. The chances of this are relatively rare, unless you are spending a lot of time in more rural/village areas and not taking care with what you eat and drink. If you have any lingering intestinal issues, or any dramatic ones (like blood in your stool), get yourself to a clinic.
Can you drink the tap water in Mali?
In Bamako, the water is treated. In fact, sometimes the water smells like a swimming pool. However, sometimes the treatment systems can get backed up, especially during the rainy season.
If you are traveling for a short time, we would recommend sticking to bottled water, which is relatively cheap. Don't worry about wasting plastic, you can give the bottle to any woman in a market, and she will make use of it (vendors of juices and oils actually buy the used 1.5 liter bottles for 25 CFA, about 5 cents). Outside of Bamako, you will need to drink bottled water without thinking twice.
If you have a medical emergency, there are hospitals in every region that can deal with trauma. In Bamako, there are several. However, if you are in need of a complex surgical operation or anything of that nature, you will want to go back to your home country, or at least to North Africa.
One last thing, the sun is no joke in Mali. Plan to spend some time indoors or in the shade during the peak hours of sunlight. Pack sunscreen and wear a hat as often as possible.
Travel insurance for Mali
You should not hesitate to take out travel insurance when visiting Mali. While it is unlikely that you will experience something requiring a claim, it's better to be safe than sorry.
Violent crime is rare in Mali, and while there is certainly petty theft, you don't have to be worried about getting mugged in broad daylight or anything like that. The biggest risks in Mali involve road travel. Mali does not have medical facilities capable of carrying out complex surgeries or operations. If you are involved in a serious accident, you may need to be flown out of the country to receive medical care.
In general, we recommend World Nomads as a reliable travel insurance carrier with excellent coverage and customer service. However, they are not currently offering coverage in Mali due to the travel warnings. You will have to find special coverage with a carrier that covers countries in travel warnings in this case.
How much does it cost to travel in Mali?
Well, that all depends. If you want to stay in very basic accommodation, eat street food and take public transport, you can easily manage on a couple hundred dollars a month. However, if you want comfortable accommodation (with a/c and hot water), and you want to eat in restaurants and take private taxis, you can quickly get to $1,500/month and much more.
Of course, this is true in many developing world countries. What's especially difficult in Mali is finding the middle ground – quality for good value. We do have some recommendations in that regard, however, and you can see the map at the bottom of the page to dig into them.
Here is roughly what it costs for some general items:
– liter of gasoline = $1.40
– liter of diesel = $1.20
– kilogram of sugar = $1.00
– short taxi ride in Bamako = $2.00-3.00
– mini-bus in Bamako = $.30
– bus from Bamako to Segou = $6.00 (a distance of about 240 kilometers)
– accommodation at The Sleeping Camel Hotel in Bamako (full disclosure: we run this place, and yes, we do think it is the best value in Bamako) = $8 for camping, $9 for the dormitory, and from $28 for private rooms
– a soda at a maquis = $.80
– a beer at a maquis = $1-1.50
– a beer at a nightclub = $5
Weather
Mali has a reputation for being a furnace sandwiched between the Sahara and the tropics. To be perfectly honest, there are a few months that are absolutely scorching. Outside of the hot season, however, the weather is much more manageable and at certain times of year, it is downright pleasant.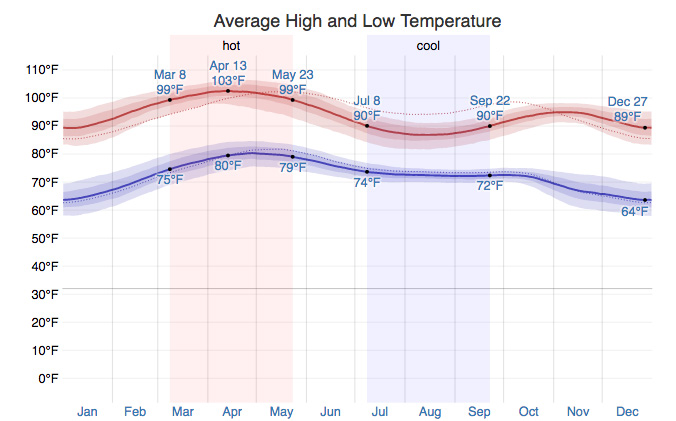 chart from weatherspark.com
The Hot Season – March, April, May and early June are the hottest months. In March and April, it is a dry, intense heat. In May, the humidity begins, a precursor to the rainy season which typically begins sometime in June. There is no getting around it, it is blazing hot at this time of year. In addition, power cuts are frequent due to increased demand and low water levels in the river. There is one silver lining, though! The hot season coincides with mango season, and Malian mangoes are something special. 
The Rainy Season – The rainy season begins sometime in June and continues to late September-early October. August tends to be the wettest month. Temperatures are cooler during this time of year, but the humidity is higher. The rain helps kill the dust, and everything turns green. Expect spectacular sunsets as well. While the rain can make some overland travel more difficult (outside of the main roads), this is otherwise a very pleasant season to visit Mali. 
The Mini Hot Season – Following the rainy season, there is roughly a two month period – more or less, mid-October into mid-December – featuring a dry heat. Over the course of this mini hot season, the evenings will start to become cooler, an indication that the cold season is on its way. 
The Cold Season – The cold season? Yes, you heard right. Ok, so it's not actually cold to most people from the northern hemisphere, but for your average Malian, it might as well be snowing. Daytime temperatures will get up to 32 degrees celsius (90 degrees fahrenheit) and lows at night will get down to 18 degrees celsius (65 degrees fahrenheit). A light sweater for the evenings is not a bad idea! This season runs from mid-December until early February.  And then the heat starts creeping back. 
What to Pack
Nothing out of the ordinary for a hot, developing world country:
Lots of lightweight, cotton clothes. Short sleeves, shorts, dresses for women and a pair of pants or two for dudes, especially if you want to go out at night (some nightclubs won't let you in with shorts on). Women should plan to dress relatively modestly in rural areas.
A light sweater or windbreaker depending on the time of year. See the weather section above for cooler times of year.
Medications and toiletries – you can buy just about everything in Bamako, but you might not be able to find particular brands that you are familiar with.
Power adaptors and convertors if necessary – Mali runs on 220V electricity and uses outlets that have the two round horizontal sockets, similar to what you find in most of continental Europe. While most electronics are certified for 110-220V, you should check to make sure that you don't also need a convertor if you are coming from a country like America that uses 110V power.
Insect repellant – Most places have mosquito nets, and if they don't, they are incredibly cheap to buy locally. Insect repellant is harder to come by. You can sometimes buy it at pharmacies, but it's better to travel with something decent.
Sunscreen – you can buy it in some pharmacies as well as certain supermarkets in Bamako, but best to bring your own if you have a brand that you are familiar with.
An unlocked phone – sim cards are incredibly cheap (less than $3) and a phone can always come in handy, whether it's for an emergency or simply to meet up with a local friend. There are also data plans with 3g available, so if you have a smartphone, you can use google maps etc.
Sandals or flip-flops – you will wear these most of the time most likely. You should bring at least one pair of closed toed shoes as well.
Tampons – for the ladies, you might not be able to find them as easily as you would like here. Many women use cotton pads instead of tampons.
ATMS, credit cards and cash
Mali uses the franc CFA, a currency which is used in all of the French speaking countries of West Africa (except for Guinea) in addition to Guinea-Bissau. The CFA is printed in France, and it is pegged to the Euro at a rate of approximately 655 CFA to 1 euro. While we have written in general article about ATMS, credit cards and cash in West Africa, there are a few things to know about Mali in particular:
A visa debit card is far better than MasterCard – good luck using your MasterCard outside of Bamako, and even within the capital, you will only be able to use it at ATMs located at Banque Atlantique and BIM (the best option is the BIM headquarters located at the Place d'Independence traffic circle).
Very few places take credit cards – of those that do, you can count the major hotel chains (like Radisson Blu), large supermarkets like Azar Libre Service and Shopreate, department stores like Orca, and some travel agencies (like SatGuru located in ACI2000 near the Radisson). Expect a 3% surcharge on all credit card purchases.
Quartier du fleuve is the money changing neighborhood – not far from the Shell station and the big BDM bank, you will see money changers out in the street, flashing bills of CFA, euro and dollars. In general, this is the cheapest place to change money, but you do have to be careful about fraudulent bills. We recommend Adama Maiga as a reliable money changer who we have worked with for several years. His phone number is 76 38 12 21.
Outside of Bamako, access to ATMs is limited to the big towns – in the towns of Mopti, Sevare, Segou, Koutiala and Kayes, for example, you will find working ATMs. In the smaller villages, don't count on it.
Finally, we always suggest having some emergency euros or dollars with you regardless of where you are traveling.
Getting around
Mali used to have its own airline, but it has been defunct since 2012. Since their demise, there are no longer internal commercial airline flights. There is a somewhat extensive road network, though, and all of the major towns south of Douentza are easily accessible.
Bus – there are countless bus companies in Mali, but some of the bigger and more reliable companies include Africa Tours, Diarra Transport and Gana Transport. These three companies go just about everywhere, including to neighboring countries. In general, we have found that Africa Tours has the best buses for the moment.
Bush taxi – bush taxis are a popular choice if you are traveling from Mali to Guinea. Called "sept-places" locally, the bush taxis often carry more than their supposed seven person capacity. Try to avoid the last row of seats if you can manage it (it is quite cramped).
Minibuses – known as sotramas, the green minibuses are the closest thing Mali has to public transport. They take specific routes in the capital, and a ride generally costs no more than 30 cents. Outside of Bamako, there are minibuses that will do short trips, for example Bamako to Fana or Bamako to Segou. Don't expect comfort or air-conditioning. This is a cheap and crowded transport option.
Car rentals – it's relatively straightforward to rent a car in Bamako. If you just need it for the city, daily rates are often 40,000 CFA with a driver and not including the fuel. Outside of Bamako, you can expect 50,000 CFA and up. You can negotiate lower prices depending on the quality of the vehicle, whether or not it has air-conditioning etc. If you are in need of a car rental in Bamako, get in touch on our contact page and we can connect you with someone reliable.
Where to go and what to do
This map is a constant work in progress. Every red pin is a recommendation, whether it's something to see or a place to stay. Some of the pins may link to more detailed articles (for example, Bamako and Segou).
Please let us know if you have any additions or if you think that something is out of date.
Recommended tour operators and resources
The Sleeping Camel Hotel and Restaurant – This is our place in Bamako, so we are a bit biased, but we would like to think that we offer a nice home base in Bamako for travelers. We also offer bespoke tours in Mali and beyond.
Papillon Reizen – Papillon Reizen is based out of Segou, and they are an excellent tour operator offering responsibly run trips throughout Mali and the region.
Toguna Adventure Tours – Toguna Adventures offers a variety of trips throughout Mali and the region. In business for over 15 year, they have a great network of guides and contacts in the region.