West Africa is filled with exceptional places, but the Fouta Djallon is right near the top of not-to-miss wonders. Here the Guinean highlands collide with the headwaters of four major rivers. Sandstone spires climb skyward from their granite foundations, steering the water through deep canyons framed by jungle. It is as dramatic as it sounds.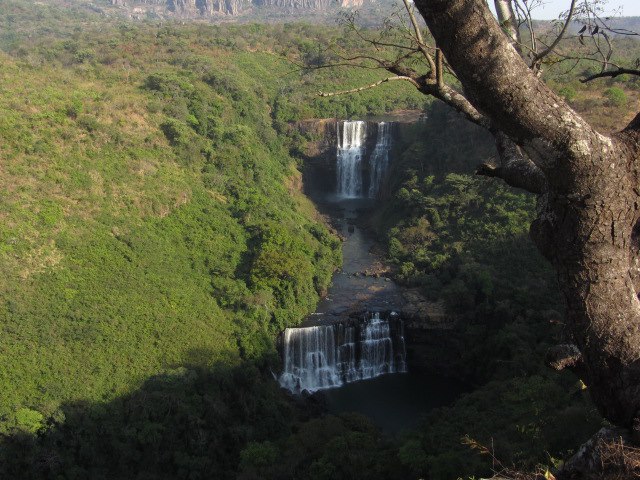 The Kambadaga waterfalls. Photo taken by Patrick Madelaine
We were fortunate to visit the Fouta Djallon earlier this year on one of our scooter trips through the region. In this post, I will talk a bit about that trip, but I will also point you to a number of excellent resources that will help you have the best experience possible when you visit the area.
Where to start your trip
Labé is the capital of the Fouta Djallon. Motorcycle taxis zip up and down the hilly streets; the main market, the engine of commerce in the region, is always humming; and the grande Mosque bursts through the trees and defines the skyline. It is a charming place, where you will find plenty of smiles, and incredible views of the highlands that surround the city. It is also the best spot to organize a trip deeper into the Fouta Djallon.
For accommodation, there is one address you need to know and that's Hotel Tata.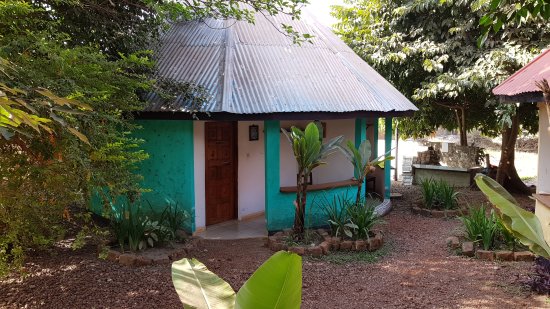 The hotel is named after the proprietor, a Guinean woman named Tata Raby. Here you will find clean and comfortable accommodation in traditional bungalows, 24-hour electricity (Labé does not have much of a power grid, but Tata has electrified the place with solar power), cold drinks at the bar, and some of the best pizza in West Africa.
Some of the best pizza in West Africa? Yep. Tata's husband is Italian, and every year she goes to Italy during the rainy season. She has learned a few tricks on her travels. She also makes excellent jams and preserves, and perhaps my favorite chili sauce I have had in the region.
Finally, Tata collaborates with Fouta Trekking Adventure, a well reputed tour operator that does treks into the Fouta Djallon. When we were there, it was actually possible to meet with someone from Fouta Trekking on the hotel premises to arrange a trip.
We did a different trek, however, with a man named Hassan Bah.
Trekking in Doucki with Hassan Bah – deep in the Fouta Djallon
Hassan Bah is a bit of a celebrity in the Fouta Djallon. His name pops up in guidebooks, and a number of tour operators bring groups through Doucki, the small village that he calls home.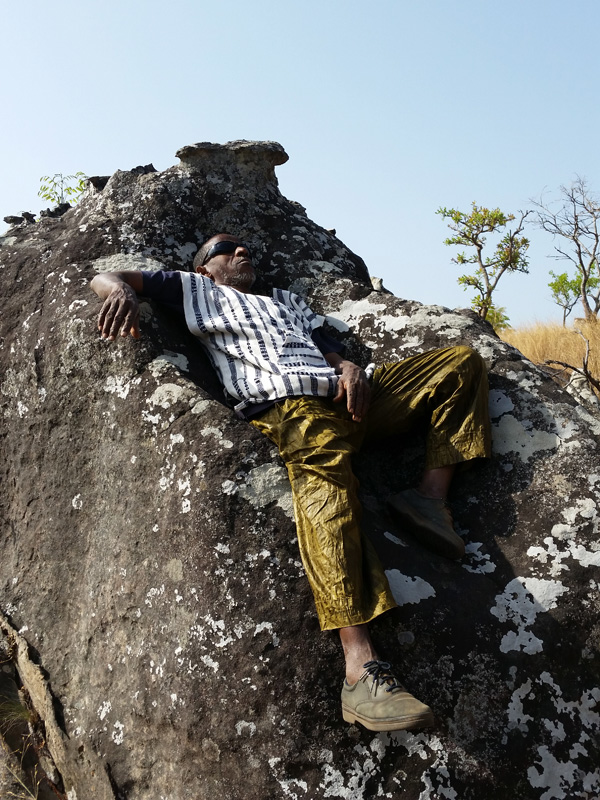 Hassan Bah relaxing on a rock
Hassan has devised a series of cleverly named treks ("Indiana Jones" and "Chutes and Ladders" are two examples) varying in difficulty and duration. The scenery and landscapes are stunning. Here is an excerpt from Grant Bridgman's blog:
On the afternoon of our first day we went to the 'Indiana Jones' gorge, which is a narrow opening in the ground in which you descend into a forested wonderland of vines and roots covering sandstone boulders. Hassan nimbly displayed how we could scale rock faces using roots as ropes. There is a small, clear stream that runs through the gorge, often completely enclosed by the sandstone walls, with red-finned and green-finned minnows in it. Hassan led us to a good pool to dip ourselves in, called 'the Jacuzzi'.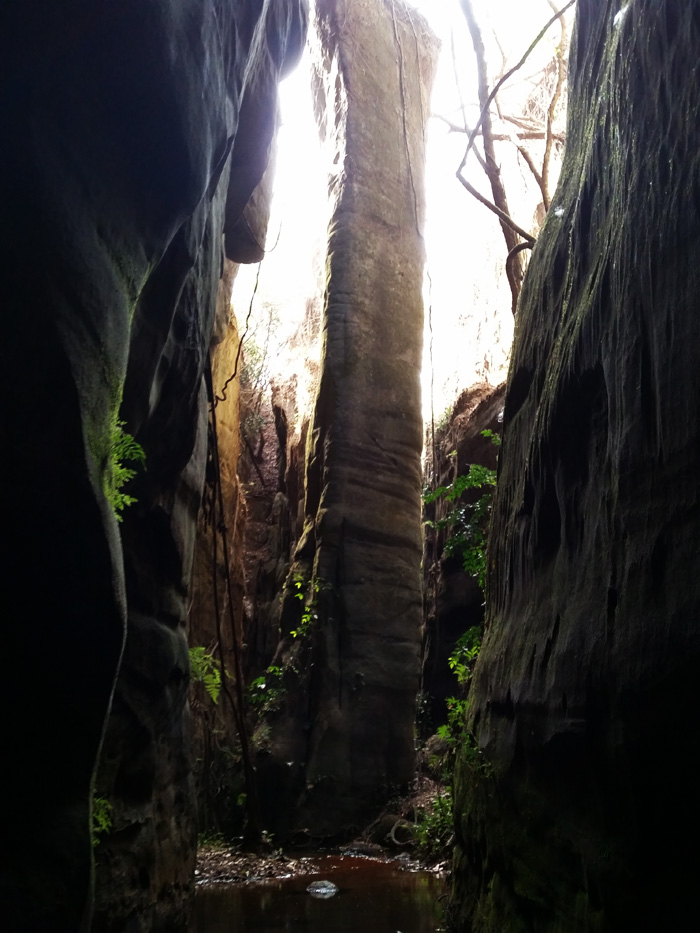 Hassan's family compound serves as a guesthouse, and he offers full room and board along with daily treks as part of a package deal that costs 25 euros per day per person. The accommodation is basic, in traditional bungalows (watch your head on the way in!), but the grounds are well kept and Hassan's family is lovely.
Originally born in Sierra Leone, Hassan speaks fluent English. He is an old pro at this guiding thing. In fact, he has enough tricks up his sleeve that he could probably hang up his hiking shoes and simply find work as an entertainer. It's also worth noting that Hassan is in his 60's, but you would never know it. He is like a lemur in the rock canyons below Doucki. At one point, we stopped walking and Hassan, unprompted, started doing a head stand.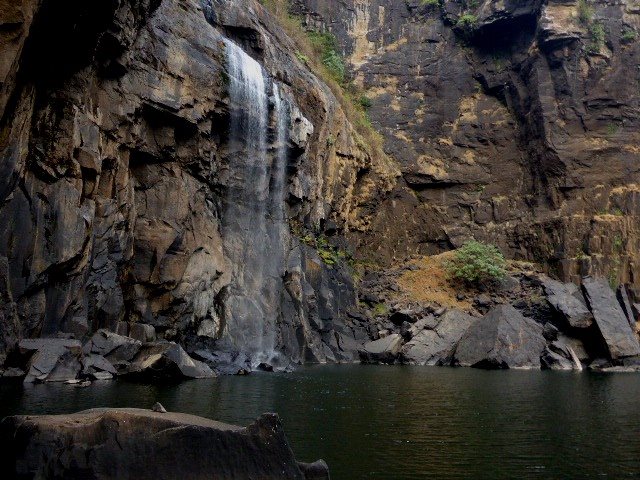 Photo from the Fouta Decouverte Facebook page.
Hassan's brother is equally qualified to lead treks in the area, and you may end up on a hike with both of them at the same time. Whether you are with Hassan or his brother, you will be treated to some of the most incredible scenery and hospitality in West Africa. The Bah brothers know all of the families in the area, and you will be welcomed into people's homes and given fresh fruit to sample among other things.
If you want to arrange to stay and trek with Hassan, contact him at +24462457553. Whether you are coming from Labé to the north or Pita in the south, Hassan can help you plan the best route to get there. There is no point in sugar-coating it, the roads are not good, and it is an adventure getting there.
This from Grant's blog could be helpful:
Katie and I hired motorbikes from Pita for 60,000 franc each. We managed to find an English speaking bike rider, which was music to my non-french-speaking-ears (Osman: +24465484996).
That was in 2012, so it could be a bit more now. For reference, 60,000 francs is about $6.60 USD or about 5,50 euros.
Tips and Inspiration for Planning your Trip to the Fouta Djallon
You can visit the Fouta Djallon year-round, but the most popular time to visit is undoubtedly between November and March. During the rainy season that runs from June to October, some treks may be inaccessible and certain hotels and restaurants are closed (Hotel Tata, for example). At the same time, the rainy season offers the most verdant landscapes and the greatest volume of water for the region's many waterfalls.
If you are thinking about visiting the Fouta, we strongly recommend checking out the website of Patrick Madeleine.
He has an English version of his blog here and an active Facebook page here. Patrick has some particularly good ideas about planning for a trek that would allow you to see a variety of sights in the area over the span of several days. Few people are more enthusiastic about bringing more visitors to the region.
Fouta elsewhere on the web
Dan from the Road Chose Me took some incredible photos when he trekked the Fouta. Check them out here.
I wrote a bit more extensively about our trip through the Fouta on my personal blog, where I talk about our stay with Hassan and the trek that we went on.
Brendan van Son also documented his visit to the Fouta with some excellent videos:

If you have visited this incredible corner of Guinea, please let us know in the comments below.