Situated near the coast on the northern border of Senegal and the Gambia, the Fathala Wildlife Reserve is a great (and inexpensive) opportunity to get some safari action when you visit Senegal or the Gambia. The reserve is made up of approximately 6000 hectares of protected forest and is a rare opportunity for visitors to this corner of West Africa to experience an untouched example of West African wilderness.
The entrance to the reserve is about 5 kms from the Senegal-Gambia border of Karang. At the entrance to the reserve you will be greeted by a habituated Ostrich that usually patrols the carpark and from here you can arrange a few different activities.
The lion walk is a chance to walk with some tame lions that have been raised from a young age. The walk takes approximately 40 mins and you are accompanied by several guides who will keep you out of harms way. This activity is not suited to everyone's tastes, and yes, it is quite touristy, but it is operated very professionally and if getting up close and personal to the 'king of the jungle' is your sort of thing, then you will love this. When we did it the lions were very relaxed and in great condition and the photo opportunities were excellent.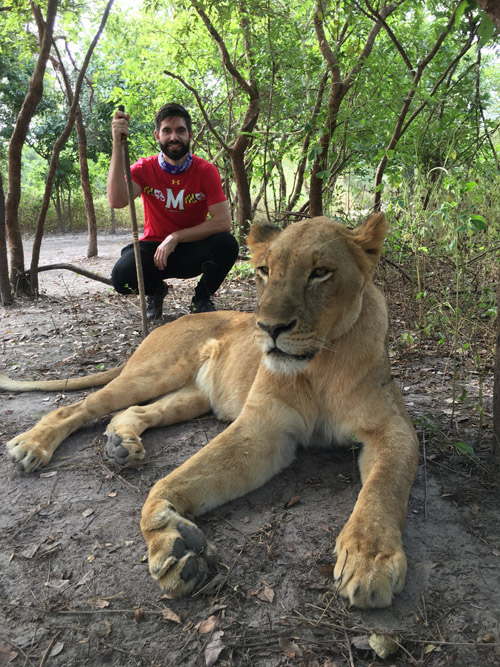 You could also take the opportunity to do a game drive. You can use your own vehicle, or it is also possible to hire a vehicle and driver. You will be accompanied by a guide supplied by the reserve. There is a chance to see various plains game including Giraffes, Zebras, Warthogs and the critically endangered Western Giant Eland (Lord Derby Eland). This is the largest antelope in the world and Fathala is one of only 3 places where you can find them. They also have one white rhino.
For a group of 4 who hire a car at the park you will pay approximately $US 80 for a package including the 2 to 3-hour game drive and the Lion Encounter so that is incredibly good value.
On a day visit they have established an excellent visitors centre where you can learn about the Reserve and grab a cold drink and a wood fired pizza. Pizzas cost about 5000 CFA.
For those with a larger budget who would like the true safari experience, they have a luxury tented safari camp that is near the centre of the reserve. At the camp there are numerous additional activities you can undertake including fishing and birdwatching tours. You can read more about that here.
If you have been on safari in East or Southern Africa, you may well be underwhelmed. This is not the Serengeti or Kruger National Park. It is however a gem for West Africa as well managed and maintained wilderness areas with readily available access to wildlife are few and far between. The management have done a fantastic job at developing the reserve and are continually looking to improve the place and provide a safe environment for the flora and fauna to flourish.