Our mission is twofold: to inspire you to travel to West Africa and to offer you the advice that will help you do so. We have been traveling and living in this region for years, and we have a few things to say about planning a trip.
Maybe you've been discouraged from traveling to West Africa. Maybe you think it's too difficult or too dangerous. If that's the case, we will convince you otherwise.
Do you already know that you want to travel this region but you don't know where to begin? We'll help you with that, too.
While the site is primarily geared towards independent travelers, we will also make recommendations for specific tours that are organized in a responsible manner.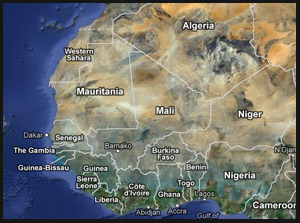 There are several ways to explore this site. Check out the Getting Started page if you don't know where to begin.
Otherwise, check out The Map, browse through stories, or head over to the Forum, where a lot of practical information is exchanged on a daily basis.
This site is not for profit
All revenue made from this site goes towards operational costs and paying contributors where possible. Additional revenue will be donated to community projects in West Africa that we believe in. Once the site begins to receive enough traffic to generate revenue, we will announce which projects we will be supporting.
To stay in touch with us, check out our facebook fan page, our twitter account and our instagram. You can also stay updated with the site by subscribing by RSS.
For feedback, questions, advertising inquiries, or guest post proposals, please see our contact page.